THE FINEST SELF-DEFENSE COVERAGE AVAILABLE ANYWHERE
U.S. & Texas LawShield® is America's original legal defense for self-defense membership program. We are the ideal choice for legal defense should you ever need to use a firearm or other lawful weapon to defend your life, family, or property. Being part of the U.S. & Texas LawShield family gives you access to exclusive benefits, such as:
24/7/365 access to Attorney-Answered Emergency Hotline
Member perks with special offers and discounts on LTC classes, firearms, optics, gunsmithing services, tactical training classes, range time, and more!
You pay zero attorneys' fees for covered events
There are no caps, no limits, and no deductibles
Legal representation for both Criminal and Civil proceedings
Member seminars with face-to-face time with experienced attorneys, instructors, and experts in self-defense law
OUR MEMBERS RECEIVE:
ZEALOUS LEGAL REPRESENTATION
U.S. & Texas LawShield Independent Program Attorneys will represent you in any legal proceeding–criminal or civil–should you ever need to use a firearm or other legal weapon to protect yourself, your life, or your property. Legal defense will be provided for all police investigations, pretrial proceedings, and both criminal and civil trials.
24/7/365 ATTORNEY-ANSWERED EMERGENCY HOTLINE
The 24/7/365 Attorney-Answered Emergency Hotline is available exclusively to our Members. The hotline will always be answered by a U.S. & Texas LawShield Independent Program Attorney. Your conversations are always fully confidential. Members will receive their Member ID Card with the Emergency Hotline Number printed right on the back, so you're always able to reach us.
NON-EMERGENCY ACCESS TO INDEPENDENT PROGRAM ATTORNEYS
For non-emergency legal questions, call the non-emergency Member Services number and we will get you connected with a local Independent Program Attorney during normal business hours.
COVERAGE OPTIONS
Even if you don't have a state-issued handgun carry permit, our Program covers you everywhere in your membership state where you can legally possess a firearm without a license. The program also covers the use of all other legal weapons. Multi-State coverage is available as an add-on so U.S. & Texas LawShield can protect you wherever you go.
WHAT'S NOT COVERED
While our services are extensive, the program does not cover expert witness fees, governmental fees of any type, investigator fees, or bail bonds. In some states, however, members do have the option to purchase Bail Bond and Expert Witness add-on coverage.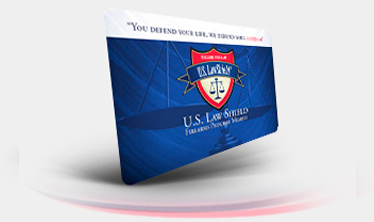 SINGLE ADULT MEMBERSHIP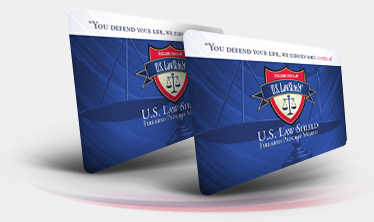 TWO ADULTS MEMBERSHIP